The craziest thing happened to me earlier this week. I was in a team meeting, and we got slightly off-topic discussing our weekends. Us getting off-topic is not the unusual part – this is: my boss mentioned she had a bottle of liquor delivered to the house this weekend. I'm sorry, what?! Did you say "Alcohol delivery?!"
It actually exists, y'all.
I immediately looked up Drizly and was amazed at what I found. To be clear: Drizly has no idea I'm writing this, so that should really tell you how intense my own pure excitement is!
The Five Most Exciting Things about Drizly Alcohol Delivery
1. Liquor, beer, and wine are all included!
Choose whatever you want – as long as it's served at a participating liquor store nearby, it's yours for the taking! She wants wine but he wants whiskey? No problem!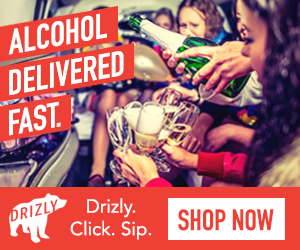 2. No mark-ups!
You'll be getting your alcohol at the same price it's on the shelf at the liquor store! That means their nearly 2,000 items per market area are available to you at standard shelf pricing.
3. Delivery times within 1 hour!
The company brags that most of its markets receive 20-40 minute delivery with almost all within one-hour delivery! So when you notice your bottle getting a little low, just pull up the Drizly app and place an order!
4. You can even schedule delivery in 2 weeks!
If you hate shopping but know you're going to need a bottle of wine to take to a party or know you're running low on rum, you can place an order and schedule it to be delivered in the future! AND you can gift deliver! Is that not the best birthday present ever?!
5. It's only $5 for delivery! (Or FREE in New York and $2 in New Orleans!)
Work smarter, not harder – am I right? $5 is less than a Subway sandwich, less than most drinks at Starbucks, only a couple of gallons of gas… $5 for ALCOHOL DELIVERY, y'all.
Between DoorDash, Drizly, and Uber – do we really even need cars anymore? 😉
Still have questions?
Want to know if you're eligible? Here's Drizly's coverage map. They're currently servicing 40+ markets in the United States and Canada! Check and see if you're eligible. Fingers crossed!
Curious about how gift delivery works? There are two options:
1. You choose the delivery time! Make sure someone 21+ years of age will be there to sign for delivery, and then once the delivery is complete, your gift message will be emailed to the lucky lady or fellow.
2. You allow the gift recipient to choose the delivery time! If you go this route, the lucky fellow/lady will get an email once you've placed the order directing him/her to schedule a delivery time that's convenient.
Wondering how to keep your 16-year-old from accepting your alcohol delivery? No worries! Upon delivery, you'll need to present both your ID and the credit card you used to make the purchase. IDs are inspected and run through special Drizly technology on delivery driver phones to confirm the ID's validity.
It's time to treat yourself.
Head on over to Drizly and sign up to start your alcohol delivery service. You deserve it, Mama!
Cheers!